Detroit: autotööstuse häll ja püromaanide mänguplats
Detroidi autotööstuse piinarikka surma pikendamine siiski õnnestus. G. W. Bush lükkas viimasel hetkel rahapõletuseahju täiendavad 17 miljardit dollarit, et vähemalt enda nahka sellest fiaskost sääst. Nüüd on "suurel kahel" (Ford väidab, et neile pole abi vaja) aega märtsi lõpuni, et tõestada iseseisvat tegutsemisvõimelisust ja jätkusuutlikke finantstulemusi, mis kataksid tehtud kulutused ja võimaldaksid ettevõtetel kasumlikult edasi tegutseda. Kui märtsi lõpuks pole kord majja löödud, siis tuleb valitsuse toetuse osaliseks saanud autotootjatel raha tagasi maksta, mis ühtlasi tähendaks pankrotti. Loomulikult on selleks ajaks Valges Majas juba uus president, kellel omad prioriteedid.
Keda teema huvitab on kindlasti juba siit või sealt üht-teist lugenud, kuid üks põhjalikumad ülevaateid sellest, kuidas Detroidi autotööstus jõudis sinna, kus ta on täna, sai hiljuti kirja pandud alati huvitava ja mitmekülgse Megan McArdle'i poolt:
I will now attempt what I think is a fair rendition of Detroit's history over the last fifty years.    In the early 1950s, for various reasons Detroit developed a cozy three-way oligopoly.  The UAW developed a cozy monopoly on supplying labor service to that oligopoly.  In some ways, the UAW helped sustain that oligopoly.  If you're a big company whose quality suffers, you have problems.  But if you have a union making sure that labor quality cannot vary across the industry, you don't need to worry that your competitors will make a better car.  Detroit competed on styling and power, not reliability or price.

During those years of oligopoly, the Big Three's first loyalty (after their loyalty to management) was loyalty to the union.  The worst thing that could happen to a Big Three manager was a strike.  Making a car that is reliable is only partly a matter of engineering; it's mostly a matter of extremely tight control over the assembly process.  That tight control is necessarily less pleasing to the workers than looser rules.  The unions could severely hurt a company with a strike.  Whereas the customers?  The customers could only go to another company where the same union was negotiating the same loose work rules.
Kui huvitab autotööstuse dünaamika USA's või see, kuidas ühest tööstusharust kasvab välja kahjumlik raha imev parasiit, siis Megani postitus on vaatamata enda pikkusele tõenäoliselt üks lühemaid ja kokkuvõtvamaid selgitusi,  mis üritab ka võimaikult tasakaalukas olla.
Vaatamata sellele, et enamus inimesi seostab Detroiti autotööstusega on isegi ameeriklaste teadmised sellest allakäigu musternäidisest üpris piiratud. Matt Labash kirjutas hiljuti Weekly Standardi jaoks pikema artikli sellest mannetust linnast, mis näib olevat viimaste aastakümnetega kujunenud kõige negatiivse keskuseks:
How bad is Detroit? It once gave the keys to the city to Saddam Hussein.

Over the last several years, it has ranked as the most murderous city, the poorest city, the most segregated city, as the city with the highest auto-insurance rates, with the bleakest outlook for workers in their 20s and 30s, and as the place with the most heart attacks, slowest income growth, and fewest sunny days. It is a city without a single national grocery store chain. It has been deemed the most stressful metropolitan area in America. Likewise, it has ranked last in numerous studies: in new employment growth, in environmental indicators, in the rate of immunization of 2-year-olds, and, among big cities, in the number of high school or college graduates.

Men's Fitness magazine christened Detroit America's fattest city, while Men's Health called it America's sexual disease capital. Should the editors of these two metrosexual magazines be concerned for their safety after slagging the citizens of a city which has won the "most dangerous" title for five of the last ten years? Probably not: 47 percent of Detroit adults are functionally illiterate.
Artiklis tuleb juttu nendest inimestest, kes pole veel linnast põgenenud ja kes üritavad väiksemaski lootuse kübemest kinni hoides linnas veel midagi teha. Samas on lakkav korruptsioon koos kroonilise rahapuudusega teinud linnast tühjade majade, varisemisohtlike tehaste, lagunenud vabrikute ja isegi hüljatud kõrghoonete linna.
Läbi intervjuude ajakirjanike, kohalike poliitikute, tuletõrjujate ja kodutute jutustab Labash loo linnast, mis on enda 900 000 elanikuga poole väiksem sellest, mis ta oli parematel aegadel samas kui vägivald lokkab ja ükskõiksuse lõplikust võidust hoiab linna eemal ainult üksikute pühendunute lootus. 
Kui huvitab ühe suurlinna hääbumise lugu, siis on paremat artiklit keeruline soovitada. Juurde soovitaks aga vaadata amatöör ajaloolase ja fotograafi Randy Wilcox'i pilte. Wilcox peab blogi Detroit Funk, kus jagab enda linnarännakute pilte. Kuna pilte on palju ja valik lai, siis tooks siin ära vaid 5 pilti koos viidetega postitustele, mis illustreerivad nii Detroidi allakäigu sügavust kui minevikutolmu upuvat ilu.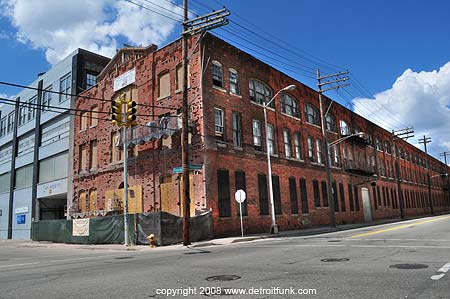 Kunagi tuli sellest tehasest välja Henry Fordi Mudel-T'sid, kuid hoone on juba aastakümneid elanud varjusurmas. Keegi üritab siiski hoonet enam-vähem korras hoida.
(Allikas: Detroit Funk – Model-T)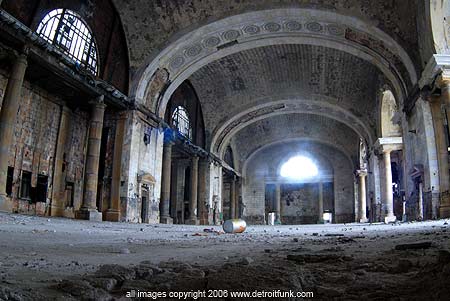 Michigani Rongijaam – ilus, suurejooneline, lagunev ja ootamas uut sügavate taskutega omaniku
(Allikas: Detroit Funk – Central Station) 

Kui tänaval kuuli läbi sured, siis mälestusmärk ei kuulu surnuaeda vaid tänavale. Detroidis on nende mälestusmärkide peamiseks materjaliks pehmed mänguasjad.
(Allikas: Detroit Funk – Memorial)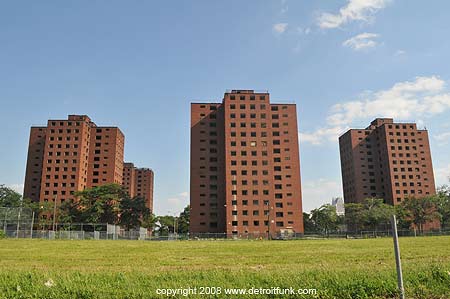 Brewester'i nimelisest linnaosast ja ühest nendest tornidest algas ka Diana Rossi elutee. Hooned on hüljatud ja ootavad lammutamist juba mitukümmend aastat.
(Allikas: Detroit Funk – Brewester)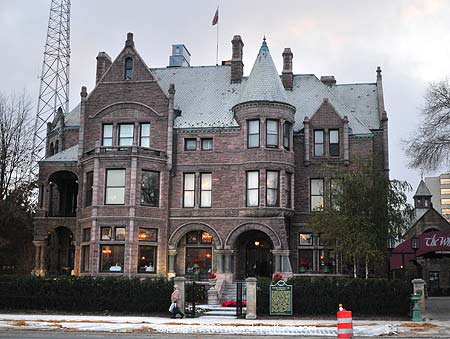 Kui tehased lagunevad, siis töösturite kodudel on veel lootust. Puidutööstur David Whitney lasi selle hoone ehitada 19. sajandi viimasel kümnendil. Täna tegutseb majas restoran.
(Allikas: Detroit Funk – Whitney) 
Ja lõpetuseks mõned videoklipid. Studebaker alustas hobusevankritega ja lõpetas 1960ndatel autodega, pärast mida tehas hüljati. Detroit Funk'is on üleval kolm videoklippi: üks mahajäätud tehasest enne tulekahju, teine tulekahjust ja kolmas pärast tulekahju.
---
Categorised as: ...
---